LACONIST - Adveniat Infernus / Blessed In Chthonic Salvation CD

Ultra Brutal satanic Death Metal from Brazil. The CD features their 1st 2 demos from 2009!! Fucking sick Deep Vocals, heavy as hell, this is a limited edition press.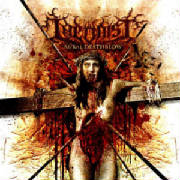 LACONIST - Aural Deathblow
Highly anticipated debut Full Length CD of Head smashing Ultra Brutal Satanic Death Metal from Brazil!! Sick, not for the weak!! GET THIS NOW!!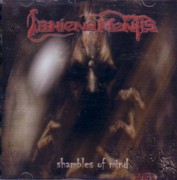 $10.00
Laniena Mentis-Shambles Of Mind/v.n.a. CD


Killer brutal Blackend Death Metal from Czech Republic. Musically L.M. are more Swedish style melodic Death Metal, vocally they have the unholy guttural modern Death Grind style of vocals with occasionaly raspy black metal vocals, and the drummer is a blast beat machine.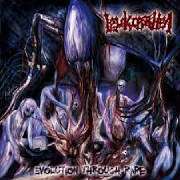 LEUKORRHEA - Evolution Through Rape
Evolution through rape, is the long awaited, 3rd cd, from cape cods violent brutal death metal band, Leukorrhea. Ranging from old school brutal death metal, to now a days technical brutal death metal.
Having tons of shredding riffs, and plenty of blast and gravity beats, a slue of fast and guttural, vocals will keep anyone into sick death metal listening. Most of the songs involve, a scenario about rape, murder, and just good old sexual fun. A MUST HAVE!!!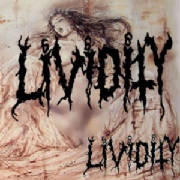 LIVIDITY - Live Fornication

A display of live butchery and debauchery including 2 shows, 2007's Central Illinois Metalfest as well as a set from the 2007 European Tour (Germany). 15 total tracks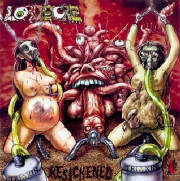 $10.00
LORD GORE - Resickened
Genetically mutated Death-gore bursting straight out of the grave and into your heart! Behold the misbegotten DNA milkshake child of Dr. Moreau, Dr. Herbert West and Dr Butcher! 12 diseased, needle tracks of sickly, grinding, Sci-Gore-Death that will make you puke soylent green! You simply have no idea what you're about to hear. This is pure AUDIO-CANDY from hell. THE Gore/Death Metal album you have always dreamed of! LORD GORE has gone above and beyond to craft the most insane, creative, catchy, violent, gory, and most memorable death metal albums EVER! Skillfully executed blast beats, slow crushing grooves (not nu-metal/jock-core style, you posers), grade A prime-cut meaty riffs created to HURT you, incredible production (this sucker really CRANKS!), and a vocal performance that now sets the new standard for sickness. Mutating, Germinating, crawling out of the grave and into your heart .. in the tradition of gore sequels such as Texas Chainsaw Massacre II and Evil Dead II ... comes the second vile offspring of mutant death/gore/doom from LORD GORE!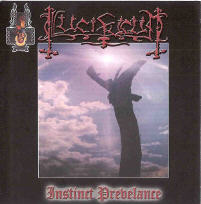 $10.00
Lucifugum - Instinct Prevelance

Harsh Cold Pure Black Metal from the Ukraine.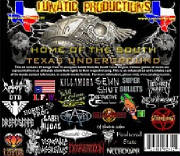 $10.00
Lunatic Productions - Chaos Down South

A collections of songs from 25 bands from the South Texas region.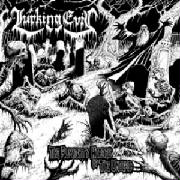 LURKING EVIL - The Almighty Hordes of the Undead
LURKING EVIL from Spain rises up with their brand of catchy, demonic Thrash Metal with a blackened punk vibe taking influences from the blood-thirsty Hammer horror films of the 70's as well as ultra-violent and atmospheric Spanish Horror. Combine that with an 80's Kreator, Bathory and early-Celtic Frost influence and you get instantly absorbed into the Horror-Mood! "The Almighty Hordes of the Undead" is a 13 song horror-metal shredder that will have you banging your head.


Malediction-Whirl Evoken By Prayer CD
From Hungary!! These guys play brutal and technical death metal similar to Suffocation and Dying Fetus. Awesome guitar leads and drum sound.


$10.00
Malignant Inception - Black Death




Technical Death Metal from Utah.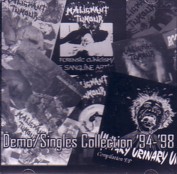 Malignant Tumour-Demo/Singles Collection 94-98' CD
From Czech Republic. This is A goregrindcore band!! They are fast, extra brutal and gory!! This is a compilation of all their sold out stuff. 76 tracks in total!! For fans of Agathocles, General Surgery, Regurgitate and early Carcass!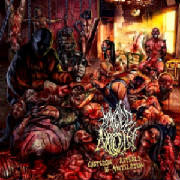 MANGLED ATROCITY - Grotesque Rituals Of Mutilation
Finally!!! The long-awaited release of KY's sickest one-man brutal gore master!
Ten drum machine-driven crushing tracks will leave you broken, butchered, and begging for more! A must for fans of old school Deeds of Flesh, Devourment, and Disgorge (CA). Recommended!!!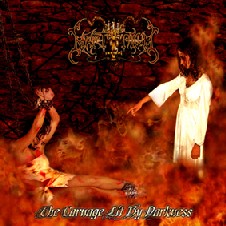 $10.00
Martyrium - The Carnage Lit By Darkness

The second opus of the notorious black metal band from malta. This album is clearly showing the hard work of this band.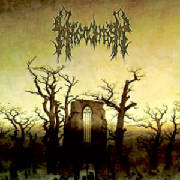 $7.00
Masochism - Masochism EP

Five sacrificial assaults of knife-thrusting Aztec-themed
shred from South Texas veterans of death metal. Mastered by James Murphy.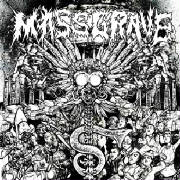 MASS GRAVE - "s/t" CD

Full-length album of raging and pissed off grindcore and crust violence for fans of Disrupt! excellent blast beats and crushing power!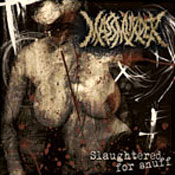 $10.00
MASSMURDER - Slaughtered For Snuff

Fast brutal death metal from The Netherlands.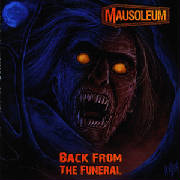 MAUSOLEUM - Back From the Funeral CD

The long awaited 2nd album from MAUSOLEUM has finally arrived! Back From the Funeral is 9 tracks of true horror worshipping, zombiecult Death Metal with a non-modern sound full of dark and creepy atmosphere the way it was meant to be! Death metal fans, horror fans, zombie fans.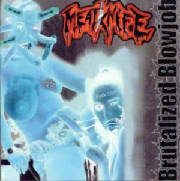 $10.00
Meatknife - Brutalized Blowjob

Crushing 2nd Full Length CD of Brutal Fucking Death Metal from Germany! 18+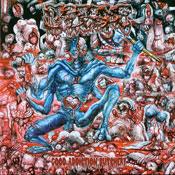 $10.00
MELTING FLESH - Good Addiction Butchery

Brutal death metal from Colombia.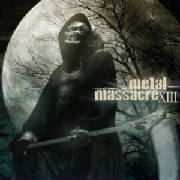 METAL BLADE - METAL MASSACRE XIII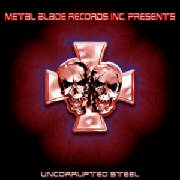 METAL BLADE - Uncorrupted Steel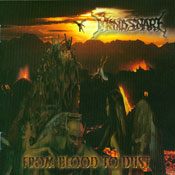 $10.00
MIND SNARE - From Blood To Dust

The latest release of brutal death metal from this band out of Italy.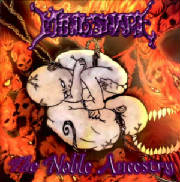 $10.00
MIND SNARE - The Noble Ancestry

Death metal from Italy.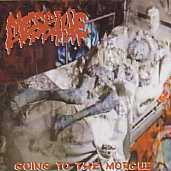 $10.00
Mesrine-Going to the Morgue CD
Members of Grind legends Dahmer are back with a new band and more insane than ever! Only a limited number of these awesome discs were made so this could be your last chance to get this!



Mess Age
-Self Convicted CD
A Polish band that plays heavy/death/thrash metal music. Comparable to YATTERING, SUPREME LORD, DECAPITATED and VADER. Nergal appears as guest vocalist on one track!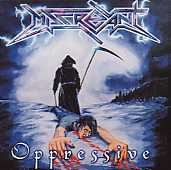 Miscreant-Oppresive CD
Here is a young Russian band that is offering their debut release of melodic death/black metal. The sound seems to be a cross between bands like Amon Amarth and later At the Gates with an occasional Pungent Stench sound in the vocal department that breaks through the rasps.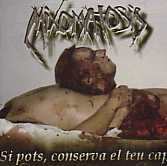 $10.00
Mixomatosis - Si Pots Canserva El Teu Cap

Complete histery of this brutal band starting in '94 to the present. Includes: the Damnable split 7", demo, Audiorrea split CD, Tu Carne split CD, Venereal Disease split MCD, 3-way split CD, Bizarre X split 7", Neuropatia split 7" and more!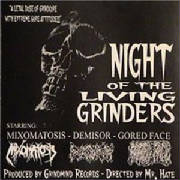 $10.00
Night of The Living Grinders - (MIXOMATOSIS)3 way split cd
Night of The Living Grinders - 3 way split cd

Mixomatosis
1. Intro
2. Fosa Comun
3. Agonia Bajo Tierra
4. 10 Anos de Vida
5. Rio de Sangre en Ruanda

Demisor
6. Breeding the Insanity
7. Children of Disgrace
8. Trapped 00:31
9. Manipulate My Mind
10. Faithless...
11. Paradise of Morbidmorgue
12. Diversion
13. Uberdruck
14. Chains of Disorder

Gored Face
15. Sodomized Bloated Constipation
16. Post Endotraumatic Facial Disorder
17. Sewn up with Guitar Strings Incision
18. Stiffing Penile Tenus Amputation
19. Intercranial Brain Damage
20. Digested Flesh Breathe
21. Chainsaw Slaughter
22. Liquified Flesh Into Red Mush
23. Mestrual Soup Delight
24. Clothes Hanger Splattered Abortion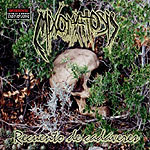 Mixomatosis - Recuento De Cadaveres CD
Spanish gore/grinder return with a brand new full length release courtesy of American Line and with a good production!!!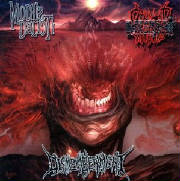 Modus Delicti, Clitoridus Invaginatus, Dismemberment - 3 Way Split CD

A disgusting split featuring: Modus Delicti (Sick Brutal Death from Italy w/ members from Septycal Gorge & Blasphemer!!), Clitoridus Invaginatus (Ultra Brutal Guttural Death Metal from Italy w/ members from Vomit The Soul) & Dismemberment (Crushing Brutal Death Metal from the USA w/ members from Execration!!)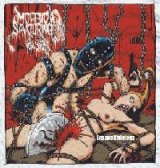 $10.00
Morbid Savouring - Insensitivicious

Gathering 40 minutes of womannizing evil and sickening lust, Morbid Savouring pummels you with their their premier pro rape and pro pedophiliac murderous grind. This album proves that either you are not sick enough or that you are a definite menace to this society... Ground breakingly disturbed lyrics, samples and dedication will show the world a new rising star. Insensitivicious, the long awaited follow up to the highly appraised and feared Autopsy Lust MCD.


$10.00
Morgue - Bonecrunch

MORTAL TORMENT - Cleaver Redemption CD

As they approach their 10 year mark, MORTAL TORMENT shows no signs of slowing down. In fact, this Greek death metal titan has reached higher grounds in terms of musicianship. Their hard work has granted them to perform alongside death metal heavy weights such as CARCASS, DECAPITATED, DEFEATED SANITY and more. To celebrate this decade of brutality, MORTAL TORMENT brings forth their highly anticipated sophomore album Cleaver Redemption.

Featuring album art by Remedy Art (Keep of Kalessin, The Crown, Uncleansed), Cleaver Redemption was recorded at Bree Studio in Athens, Greece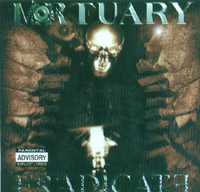 $10.00
Mortuary - Eradicate

Death metal from France.

$10.00
Mortuary Hacking Session - Delightful Carvings

These corpse mutilating female freaks have done it again!!!
Mortuary Hacking Session has unleashed 15 sadistic tracks of
gorebleedinggrind and touches of bizarre grooves with weird
instruments. This all girl band will show you the proper way to dissect a delicious body.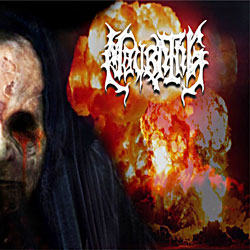 $8.00
Mourning - Blinded By Hate

On Ossuary Industries. Brutal Blackend Death Metal from the USA!! Featuring members of Dislimb!!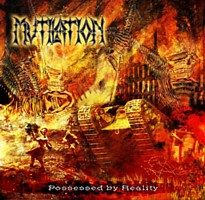 $10.00
Mutilation - Possessed By Reality

Death Metal from poland.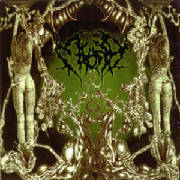 Myopia - Concentration of Suffering CD
Here is some real awesome Canadian death metal! Delivers very powerful death/grind, with terrific production, superb execution, and just all around brutality! Look for these guys to rise from the underground.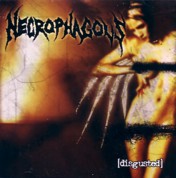 Necrophagous-S/T CD
These guys play fast grinding death metal. Awesome drumming, really thick growls and good guitars!! For fans of brutal death like Lividity and Suffocation!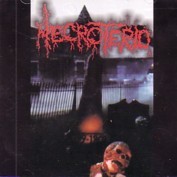 $10.00
Necroterio - Lament Of Flesh CD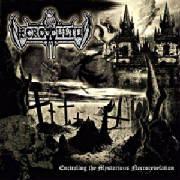 NECROCCULTUS - Encircling the Mysterious Necrorevelation
Originally released in 2005, this masterpiece of utterly dark, morbid, and cryptic Death Metal has been out of print for years. NECROCCULTUS are true old-school bastards who have been carrying the banner for pure Death Metal long before the current trend exploded! The re-issue includes the long out of print "Supreme Occult One...The Underworld Abhorrence" 7" EP as bonus tracks, as well as a very special cover song of the legendary Necrophobic. Features brand new and improved hand drawn old-school cover art by Mortuus!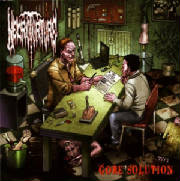 NECROTORTURE - Gore Solution
The long awaited and highly anticipated Debut Full Length CD of amazing Ultra Brutal Guttural Death Metal from Italy!! Following their sick 2006 Ep "Blood Feast" Expect nothing less than an ultra Brutal memorable slab intense brutality!!!
Featuring ex-member of Hour Of Penance, Get this modern day masterpiece NOW!!!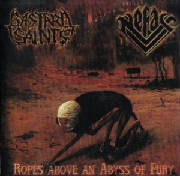 $10.00
Nefas - Ropes Above An Abyss Of Fury SPLIT CD

Split CD with Bastard Saints (Italy).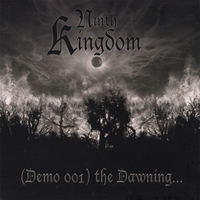 $7.00
Ninth Kingdom - The Dawning

Black/Death Metal from Houston, TX.


$10.00
Nuclear Death - For Our Dead / All Creatures Great and Eaten CD

Classic Rare out of Print 7" and MC together on 1 CD. Death/Thrash w/brutal female vocals!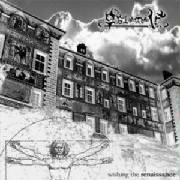 Oblomov-Wishing The Renaissance CD
Melodic black metal from the Czech Rep.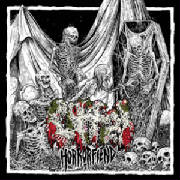 OFFAL – Horrorfiend
3rd full-length album from Brazil's best Death Metal band today! 9 brand new songs of pure horror worshipping splatter gore death FUCKING metal that invokes the spirit of "Severed Survival" and "Horror of the Zombies" while embarking on their own journey into cleverly played horror metal anthems with style and utter HEAVINESS at the same time! This album shows OFFAL at the top of their game, and ready to invade the minds and ears of more people than ever before! A true horror/gore Death Metal masterpiece! Features killer cover art from the legendary Mark Riddick!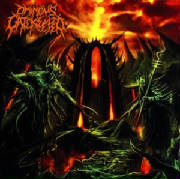 OMINOUS GATEKEEPER - OMINOUS GATEKEEPER
Ominous Gatekeeper hails from Northern California created by Corey Athos (Flesh Consumed, Hydrocephalic). Down-tuned, sludgy, dark and dissonant Brutal Death Metel..featuring searing solos from Shaune Kelley (Dim Mak, ex-Hate Eternal).


Omnium Gatherum-Rectifying Human Rejection CD
From Australia. Heavy, brutal death grind with insane drums and a general battle frenzy atmosphere through out bursting in to technical runs at times!. GREAT RELEASE!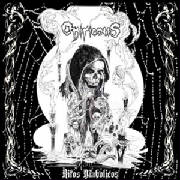 ONIRICOUS - Ritos Diabolicos CD

Spanish demons play some of the absolute finest European Death Metal we have heard, conjuring up riff after riff of pure heaviness, speed, and horrific evil! Inspired by a love for pure horror themes, Lovecraft, and performed by real old-school maniacs from the actual old days... ONIRICOUS have created one of the best all-out pure Death Metal debut albums in years! "Ritos Diabolicos" was recorded and mixed at Moontower Studios in Spain and mixed and mastered by Dan Swano at Unisound Studios in Sweden, and features amazing cover artwork from a true MASTER of horror, the one and only Esteban Maroto from the classic 70's CREEPY and VAMPIRELLA horror magazines! Razorback is thrilled to unleash this masterpiece of total HORROR FUCKING DEATH!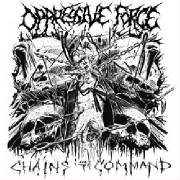 OPPRESSIVE FORCE - Chains of Command EP

Fucking sick TXDM featuring Shawn Whitaker (Viral Load, ID, ect..) on Vocals!! Great disc!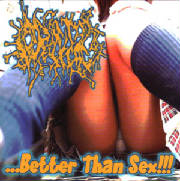 ORIFICE - ...Better Than Sex!!! CD

Ultra sleazy goregrind from Italy!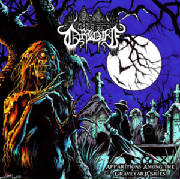 ORLOFF - Apparitions Among the Graveyard Skies CD

Under a crimson deathshroud, ORLOFF rises from the grave! The debut album from these horror creatures has finally arrived, in the form of some of the most original, heavy, and atmospheric Death Metal ever recorded. "Apparitions Among the Graveyard Skies" is 13 tracks of pure enthusiastic horror metal, utilizing creepy organ sounds mixed with evil and catchy riffs, and an unrelenting vocal assault straight out the abyss of hell itself. Let the ghastly sounds of ORLOFF satiate your hunger for utter morbidity!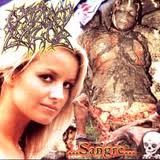 $10.00
Oxidised Razor - "...Carne...Sangre..."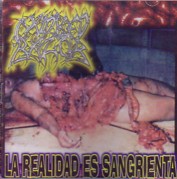 $10.00
Oxidised Razor-La Realidad Es Sangriente CD


Now this is low-fi gore/grind with all the necessary elements. Everything is here, a total splatter fest on the cover, samples, porn, misspelled song titles in English like Shotting mucous from intestinal haemorrhage, a trebly production and a whole layout with almost everything written in Spanish. This is underground!!!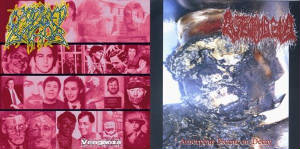 $10.00
OXIDISED RAZOR / AUTOPHAGIA Split CD

Purely sick gore grind.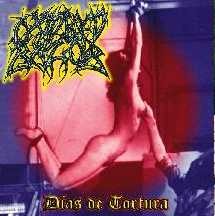 $10.00
OXIDISED RAZOR / C.A.R.N.E. SPLIT CD

Sick Grindcore from Mexico!


$10.00
Panteon - Demonic
Black/Death metal from Brownsville, TX.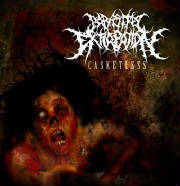 PARASITIC EXTIRPATION - Casketless
Technical death/grind mechanics PARASITIC EXTIRPATION. Eliot Bayless (Revocation, Dysentery, Composted) Founded late 2007 in the Northeast US and containing members of Dysentery, Sexcrement & Proteus, the outfit have spread their brand of sickness worldwide through their debut EP 'Knee Deep in Disease.'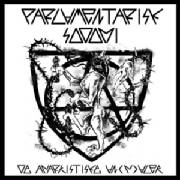 PARLAMENTARISK SODOMI - De Anarkistiske An(n)aler CD

Raw, brutal, and insane grindcore madness from some true maniacs! features exclusive CD only bonus tracks!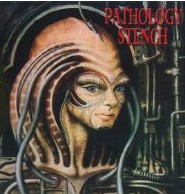 Pathology Stench-Accion Muntante CD
These guys play brutal grinding death metal similar to Pungent Stench, Lividity and Death. The growls on this release are gorier and the songs way more complex. This is the way brutal death metal should be! Thick riffs, hyper blasts and technical guitar leads. Includes multimedia video, photos,...etc for your pc.


Paths of Destruction

-3 Way Split CD

New England is home to some of the best metal out there, and this 3-split displays the raw aggression of three of the best unknown acts in the region. HELD UNDER, hailing from Albany, NY spew forth 5 tracks of complete deathcore brutality. Dual lead guitar assault, thick, pounding drums, and a 3 way vocal attack combined with pit riffs and a strong groove make these guys a force to be reckoned with. SEVER, also from the heart of Albany, NY unveils the soundtrack to a sweat-inducing nightmare, complete with unnatural, yet subtle timing perversions and dissonance, painting an enveloping tapestry of emotional murk. Distorted bass, sludgy guitar, throat-tearing vocals and math-infested drumming build a field of dynamics to destruct the listener in the form of four previously unreleased songs. CT's VEXATION hold true to the early 90's death metal legacy, and force feed you 5 tracks of complete off the wall, agonizing metal. Chalk full of blast beats and shredding riffs along with low growling vocals make this a must for metal connoisseurs. The future of metal has arrived.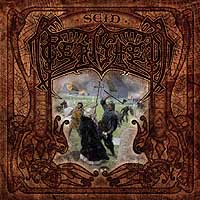 Perished - Seid CD
These leather and spiked freaks play brutal black metal with crunchy riffs and soaring melodies. Brutal sound and very listenable. Not your typical boring black metal band.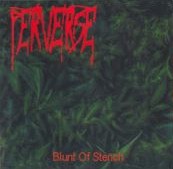 Perverse-Blunt Of Stench CD
From Poland. These guys play brutal grinding death metal with a really good sound. Awesome drumming!! Sounds like a cross between Embalmer and Lividity.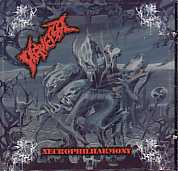 Perversist - Necrophilharmony CD
Vile, guttural, sick, & brutal pretty much sums up this debut CD offering. One of the sickest bands to emerge from the Czech Republic for sure and this proves it by playing their style of uncompromising death/grind blasphemy. 10 tracks including bonus tracks taken from their split 7-inch EP with PROPHECY!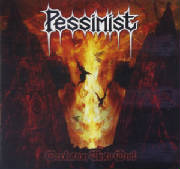 PESSIMIST - Evolution Into Evil

A collection of rarities by this underrated U.S. Blackened Death Metal band. Contains previously unreleased tracks, early demos, live cuts and covers of Death, Possessed, Megadeth and Kreator classics. Comes with an enhanced CD-ROM feature boasting lots of cool extras.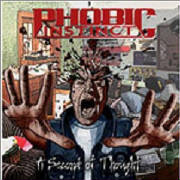 $10.00
PHOBIC INSTINCT - A Second Of Thought CD

An awesome lost and found thrash metal classic originally recorded in 1989 for the now defunct but highly praised NO REMORSE (BLIND GUARDIAN,SACROSANCT,GRINDER,) record label.Unfortunately the album couldn't see the light of the day until now.PHOBIC INSTINCT features the talent of former EXUMER now SUN DESCENDS frontman Mem Von Stein.Besides these 12 songs you'll also get very rare bonus material including TARTAROS and MAYHEM demos (pre-EXUMER stuff, not to be confused with the black metal bands from Norway) ,also expect pictures and liner notes.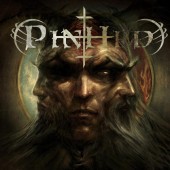 $10.00
Pinhed - The End Of Life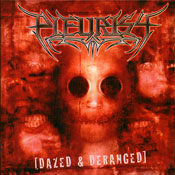 $10.00
PLEURISY - Dazed & Deranged

Progressive death metal from Holland.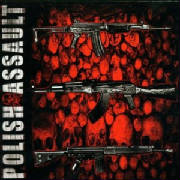 $10.00
POLISH ASSAULT - 4-way split CD

Features head-crushing tracks from Decapitated, Yattering, Lost Soul, and Damnable! All exclusive tracks! totally extreme death metal from Poland, and getting very hard to find!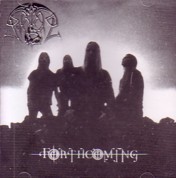 $10.00 PPD
Portal-Forthcoming CD


In the vein of Dark Tranquility, At The Gates, In Flames..... Melodic, technical death.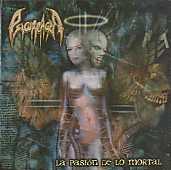 Psicorragia-La Pasion de Lo Mortal CD
Contains 8 long tracks of melodic death metal from South America. Varying influences bring several elements into the mix in the form of backing wood wind instruments along the side of and sometimes replacing the traditional keyboard.



Psilocybe Larvae
-Agony CD
Second and latest masterpiece from Russia's Psilocybe Larvae. Very melodic, classic styled death metal with gothic doom and black metal atmospheres combining varied vocals ranging from ultra guttural grows, grim screaming to clear vocal chants. Extremely dark and depressing atmospheres layered with brutality and utter grimness! An excellent return!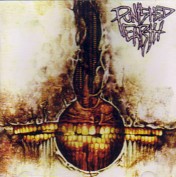 Punished Earth-Ffrankenstein CD
From Belgium. One word!! AMAZING!!! Riffs catchier than Metallica, blasts thicker than blood, and nice deep growls. Awesome original sound and music!!! This is definitely not your everyday brutal death band!

$10.00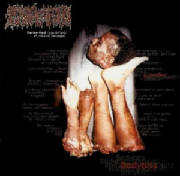 $10.00
PUTREFIED - Body Bits

Sick, downtuned, US-style brutal death metal from The Netherlands.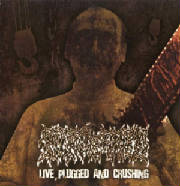 $10.00
PUTREFIED - Live, Plugged And Crushing

Contains live tracks, along with songs from Body Bits and The Putrid Remains releases.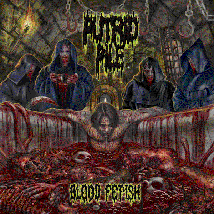 PUTRID PILE - Blood Fetish CD

Ascending from the bowels of Hell like Satan himself ravenous for the souls of all humanity comes Putrid Pile!! With his fourth full length album and senior release entitled BLOOD FETISH.
A must have for every fan of extreme Death Metal! From technical, to old-school riffing and everything in between, blast beats, D-beats, guitar solos, gravity blasts, ultra low main vocals, demon screech high vocals, and Putrid Pile's signature double bass and punch your mother in the face slam riffs. There's a little something in this release for everyone! BLOOD FETISH is by far the best and most well thought out material the band has ever released to thus far. With superior production from Mercenary Digital Studios and skull crushing musicianship, people will be talking about this release for years to come. Guaranteed!!!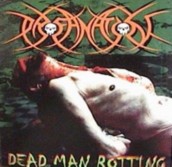 $10.00
Profanation-Dead Man Rotting CD
Death metal from Germany. Members of C*** Grinder. Good catchy death metal.